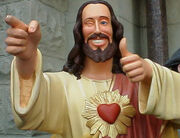 Buddy Christ is a fictitious or parody religious icon in the film Dogma. In the film, he is part of a campaign ("Catholicism Wow!") to revitalize the Catholic Church. Viewing the crucifix image as "wholly depressing," the Church, led by Cardinal Glick (George Carlin) decides to retire it, and creates Buddy Christ as a more uplifting image of Jesus Christ.
Appearances
Edit
A nun (Carrie Fisher) who picks up a hitchhiking Jay and Silent Bob in Jay and Silent Bob Strike Back has a Buddy Christ statue on her car dashboard (a reference to the practice of carrying medals or dashboard statues of Saint Christopher, patron saint of travel, in one's automobile). Also a nod to the song "Plastic Jesus" sung by Paul Newman in Cool Hand Luke.
In the animated short Clerks: The Lost Scene, the "death cards" that Randal flicks through have numerous images that look suspiciously like Buddy Christ, as well as the angels from Dogma, Bartleby and Loki.
A full-size Buddy Christ can be found in director Kevin Smith's Jay and Silent Bob's Secret Stash comic book store in Red Bank, New Jersey and Los Angeles, CA. Merchandise featuring the character (clothing, figurines, etc.) is sold at the store and online. Miniature Buddy Christ figurines were initially offered as an exclusive items through Wizard Magazine, but have since become commonplace pieces of merchandise in comic book shops. Indeed, Buddy Christ has become a more widespread internet phenomenon.