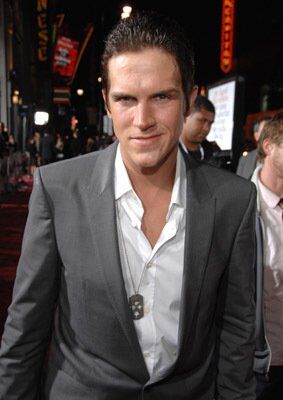 Jason Edward Mewes (born June 12, 1974) is an American television and film actor known for playing foul-mouthed drug dealer Jay, the vocal half of Jay and Silent Bob from the films of Mewes' longtime friend Kevin Smith.
Zack and Miri
[
]
Mewes appeared in Zack and Miri Make a Porno as Lester. Of the role, Smith said
It was actually the role Mewes was born to play, in a weird way. Even moreso than Jay.

[1]
Career
[
]
Mewes starred in the pilot episode of a Kevin Smith directed sitcom called Hating Hal (which never advanced beyond the pilot stage.)
While he is mostly known for acting in films, Mewes also has worked in television. He voiced the role of Jay in the short-lived Clerks: The Animated Series. He, along with Smith, appeared in the films Scream 3, Bottoms Up and on Degrassi: The Next Generation. He appeared in two episodes of a three-part story arc in which he and Smith film a new addition to Smith's New Jersey films entitled Jay and Silent Bob Go Canadian, Eh? at Degrassi Community School. They appear again on Degrassi (in a two part episode), at the premiere of Jay and Silent Bob go Canadian, Eh? in Canada. Mewes, Smith, and Degrassi star Stacie Mistysyn made the cover of Canadian TV Guide. In 1998, he starred as "Gary Lamb - Ground Activist" in a series of Nike commercials directed by Smith.
In Scarface: The World Is Yours Mewes provides a voiceover for a thief who steals some tapes. The character's dialogue, consisting mainly of constant stream-of-consciousness profanity, is entirely consistent with that of the Jay character.
Filmography
[
]
See also
[
]
Further reading
[
]
References
[
]
External links
[
]