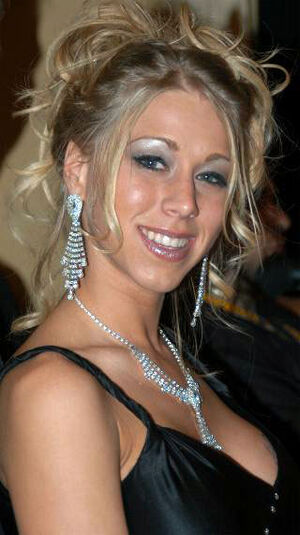 Katie Morgan (born March 17, 1980 in Los Angeles, California) is an American pornographic actress, model and radio talk-show host. She plays Stacey in Zack and Miri Make a Porno.
Seth Rogen originally suggested that they use adult actresses in the film. Kevin Smith was impressed by Morgan's ability to act before the sex started in her films:
And I was just like, ah, this chick can actually act. This isn't even like she's good for a porno actress. Like, she's funny. She's got good timing.

[1]
Kevin Smith and his crew contacted Katie through her website to ask if she would be in the movie.[2]
Morgan considers Zack and Miri Make a Porno to be her first mainstream movie. She says:
It's about two people who actually didn't know they loved each other and then find out they do. See, it's a good, happy movie. The boobs are just for, you know, looking at. A little bit extra.

[3]

Kevin Smith claims that Morgan was a big help during filming because she was able to tell them how to film a sex scene so it wouldn't be obvious that it was fake.[4]
Katie Morgan was raised in California. She was home-schooled by her mother and father, a Christian pastor. She describes her parents as being very conservative and religious.
Katie initially entered the porn industry as a means to pay-off her sizeable bail and plea bargain after being arrested for transporting over 100 pounds of marijuana from Mexico into the United States in 2000. Her first sex scene was in Ed Powers' Dirty Debutantes 197.
She has been featured in HBO's A Real Sex Xtra: Pornucopia – Going Down in the Valley, Katie Morgan on Sex Toys, and Katie Morgan: Porn 101, and in the HBO documentary film Katie Morgan: A Porn Star Revealed, in which she describes having chosen the surname Morgan in reference to the alcoholic beverage Captain Morgan's Rum and the first name Katie in reference to the first name of Gone with the Wind's Scarlett O'Hara.
She has been interviewed on several FM band and Sirius Satellite Radio shows, recently on King Dude, The Mike Church Show. For several years she co-hosted The Wanker Show with Wankus on adult internet radio station KSEXradio.com.
Zack and Miri Make a Porno (2008)
Ashlynn Goes to College #2 (2008)
Another Man's Wife (2007)
Sophia's All Girl Violation (2006)
Dirty Little Devils 1 (2004)
Whore of the Rings 2 (2003)
Babysitter 10 (2002)
Extreme Teen 17 (2001)
Community content is available under
CC-BY-SA
unless otherwise noted.